The sauna is a simple, not elaborate, structure which is relatively inexpensive to
build. Basically, it consists of a steam room, a shower, and a dressing room.
If you're not at all sure how you're going to tackle this project, we suggest you get
some help in the very beginning to get started on the right path. We gladly provide
this service. If you can provide us with some information about the space you have
available either verbally or with pictures, we can offer our suggestions on the layout
or building of your sauna. You can contact us by phone 8am - 8pm EST (1-906-482-6604
& 1-800-41-SAUNA), mail (A & L Fabricating, HWY M-26, P.O. Box 319, Dollar Bay,
MI, 49922), fax (1-906-482-6604), or e-mail (ilosauna@gmail.com).
The walls and ceilings of the steam room are heavily insulated with all inside
surfaces made of unfinished wood to absorb and diffuse moisture. Cedar and cypress,
where available, are excellent. Redwood does a fine job, but darkens with age. Basswood
and poplar work well as they are naturally white and less costly. Any wood without
pitch works successfully.
A removable slatted wood cover on the floor is desired on cement or ceramic to
reduce the risk of slipping.
Tile, metal, or masonry on the walls of the steam room are absolutely unsuitable -
they make the sauna an uncomfortable experience.
A low ceiling increases efficiency.
If possible, there should be a floor drain in the steam room.
The wooden benches in the steam room are usually located at two or more levels.
Those who prefer more heat would sit at a higher level, while those who prefer it a
little cooler would sit at a lower level. When sitting on the upper benches, the head
should be close to the ceiling as most of the heat rises. The family sauna should be
large enough so that one bench is long and wide enough for a person to lie comfortably
and relax. Relaxation is what a sauna's all about!
Generally,the shower is inside the steam room, though it can just as well be in an
adjacent area or room. If running water is not available, it can be carried into the sauna
in buckets. Note: This really is the traditional way.
A sauna can be built to fit any space or surrounding and built in any style you
desire. It can be installed in a basement, garage or built as a separate structure. A
sauna may help dry a normally damp basement. Excess moisture is not an important
consideration as the humidity is actually very low.
An advantage of a sauna within a house is that only the steam room need be constructed
if the shower and/or relaxation facilities already exist.
The size of your sauna will depend on the number of people likely to use it at one
time. The cubic feet of the sauna determines the heater size.
Click here to find the right size from our chart. You will be able to get right back
here when you're done with the link under the table.
Eye Protection
Work gloves
Ruler
Hammer
Level
Square
Countersink set
Saw
Some means of making accurate miter cuts (miter box or miter saw). If you have a
miter saw, check out the Mighty MiteR
Pencils
Drill
Screw gun or Screwdrivers
Depending on construction, suitable adhesives and caulking gun.
Electrical tools for stripping and making wire connections
If you have friends and neighbors, cold beer is optional if they're so inclined

A great way to help you with the construction your sauna is by using the Mighty MiteR
The Mighty MiteR allows you the versatility to make your miter stand any length
needed. All you must have is a good, strong, straight 2 x 6.
When assembled, it is more than strong enough to accommodate any industrial-rated
compound or standard miter saw.
All brackets are formed using heavy 7 gauge (3/16") steel with a red enamel finish.
All knobs are heavy industrial grade for lifetime use.
All legs have inserts that are non-marring and non- scratching.
For alot more information on the Mighty MiteR- click here.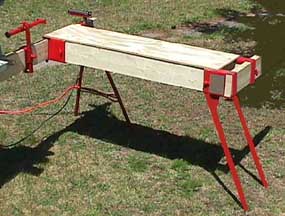 This extremely handy accessory consists of two brackets and two legs made from
heavy 3/16" (7 gauge) steel. It can be easily made to any length or width depending
on your needs. It can be attached to the Mighty MiteR or it can stand on it's own!
Click on the picture of the table above to go to the beginning of the table's page.
These are just some of the ways it can be put together, but the possibilities are endless!.....
Click on either picture to go to the different ways you can put it together. Once you're
there, you can scroll up to learn all about it!
A TYPICAL SAUNA LAYOUT




Some Sauna Specifics :
A good size for a sauna steam room is about 8'L x 6'Wx 7' H. The size of ILO
you would put in this room would be a RAD-9KW.
2"x 4" studded construction with inside paneling and insulation as noted gives
best results. Avoid hard surfaces such as metal, porcelain, and ceramics.
They'll get uncomfortably hot and can actually burn the

skin.
A floor drain rids the steam room of excess water and is an aid in cleaning.
Insulation on ceilings require 2" of urethane foam or 6"of fiber glass. Walls need
1" or more of urethane foam or 3" or more of fiberglass.
Benches are constructed of 2" X 8" , 2" X 10" or 2" X 12" boards of cedar, bass,
poplar, or redwood - planed and sanded, but unfinished. Use stainless steel
screws or nails for all fasteners on benches. Teflon screws are now becoming
available and will work great. All

screws and nails must be recessed (countersunk).
ILO™ Radiant Electric Sauna Heater must be located

6" or more from
combustible surfaces in an open and exposed position. May be closer

or next

to
wall if a heat shield is placed between heater and wall. We manufacture these
shields if needed.
For safety, a wooden railing around the heater is a must.
Inner walls and ceiling should be of any wood without pitch - such as cedar,
basswood, poplar, or redwood.
This must be left unfinished to avoid objectionable odors and absorb and
diffuse heat. Hot dipped galvanized, stainless steel, or brass screws and nails
should be used throughout and be countersunk.
A door can be fabricated by starting with a properly sized piece of vertical or
horizontal paneling, then fastening wood to match or accent the wall surfaces.
Sometimes windows are added between the sauna and

the change room. If
thermal pained windows are used,

they can also be on an outside wall.


Here are some ways you can get "wild" with a miter saw and create some interesting
geometric designs and patterns. Surprisingly, you'll use much less material than with
conventional construction as the shortest pieces of material can be utilized.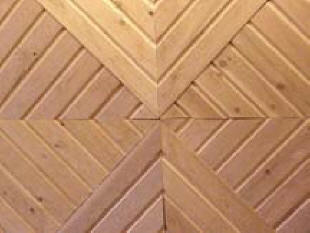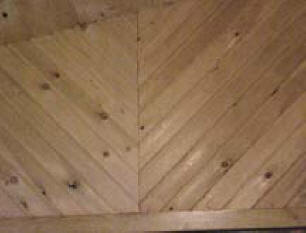 get back to Sauna FAQ here
To answer any questions you may have that we have not
covered, please feel free to call Paul, Lorri, or Lynn at any time
Mon.-Sat 8AM-8PM EST. 1-906-482-6604 & 1-800-41-SAUNA.
Our e-mail address is ilosauna@gmail.com