The ILO Radiant Electric Sauna Heater
ILO is a Finnish word for "delight" or "joy".
Ideally, a sauna should reach its operating temperature in less than an hour, and the
heater should maintain a rock temperature far in excess of 212 degrees F (100 degrees
C) during use.
The ILO™ Radiant Electric Sauna Heater heats rock, not metal, and keeps it hot,
giving you a REAL STEAM bath.
The heater size should be carefully matched to the room size for most satisfactory
performance. An oversized heater will bring the room air up to temperature and shut
itself off, without having the rocks at a temperature required for stability. Too small a
heater will not maintain suitable temperatures during use. The chart below will help
in selecting the "just right" ILO for your sauna.

SPECIFICATIONS

MODEL #
RAD-6
RAD-7
RAD-9
RAD-10
RAD-12
RAD-13
Room Size: Cu.ft. (m³)
Min:140- 340 ft³
Min:217- 420 ft³
Min:294- 500 ft³
Min:448- 650 ft³
Min:630- 800 ft³
Min:700- 950 ft³
Kilowatts
6 KW
7.5 KW
9 KW
10.5 KW
12 KW
13.5KW
Physical Size
15 1/2" dia. x 25" h
15 1/2" dia. x 25" h
15 1/2" dia. x 25" h
15 1/2" dia. x 25" h
15 1/2" dia. x 25" h
15 1/2" dia. x 25" h
Wire Size (Copper)
# 10 Copper
# 8 Copper
# 8 Copper
#8 Copper
# 6 Copper
# 6 Copper
Electrical Req.

25

AMP 240 V

33

AMP 240 V

40

AMP 240 V

45

AMP 240 V

50

AMP 240 V

57

AMP 240 V

Breaker Size

30 amp

40 amp

50 amp

50 amp

60 amp

60 amp
Click here to get back to Build Your Own
Tests have shown that, because a sauna is a tightly enclosed, well-insulated room,
an electric unit is a more effective heater than any other type because there is no heat
loss through a chimney. The ILO's high efficiency cannot be equaled with combustible
fuel. A good gas or oil sauna heater has an efficiency of only 20 - 30%. The electric
heater in a properly insulated room is 100% efficient. Therefore, it costs only
pennies to operate.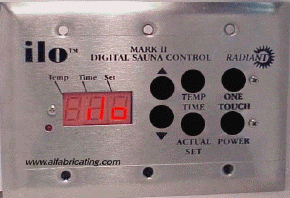 Pictured is the Mark 2 control with a "One Touch" and a 150 minute timer.
An absolute necessity for the "just right" sauna is the room temperature. The Mark 2
constantly measures and maintains actual room temperature, within one degree, of
what you set on the display.
The range is from 80° to 210° F (26° to 99° C.).
Simply press "Power", and time or temperature is displayed.
Set to the desired temperature and time, then touch "Set".
Just program it once, and each time you use your sauna thereafter, just press
"One Touch". Your previous sauna experience will be repeated.
What could be easier?
A heavy duty magnetic contactor /enclosure is included with the Mark 2 control,
designed for mounting outside the sauna.
The electrical installation is extremely simple and straightforward with step-by-step
installation instructions.
Other manufacturers purchase controls that are designed for multiple uses and often
are assembled in other countries.
The ILO and the Mark 2 control are manufactured on-site, so any
components are available separately should the need ever arise.

Large rock capacity is a MUST for a REAL SAUNA
the ILO has more than any other heater!
Some of the features that make the ILO™ Radiant Electric Sauna Heater the best
engineered and the best value in a sauna heater are shown in this cutaway drawing:

Contact us;
Paul, Lorri, or Lynn:
Telephone:
1-800 417-2862 (

1-800-41-SAUNA

)

1-906-482-6604

Fax:
1-800-41-SAUNA (1-800-417-2862) 1-906-482-6604

Postal Address:
A&L Fabricating Company
Hwy M-26, P.O. Box 319, Dollar Bay, MI 49922

Electronic Mail:
General Info: ilosauna@gmail.com
Sales: ilosauna@gmail.com
Customer Support: ilosauna@gmail.com
Webmaster: ilosauna@gmail.com