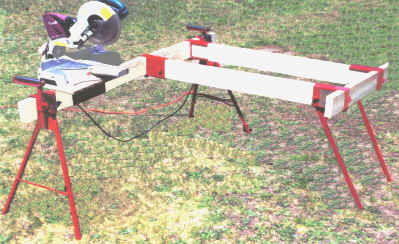 The Mighty MiteR Workstation.

The Basic Assembly Includes:

| | |
| --- | --- |
| | 1 saw bracket |
| | 1 electrical stand end |
| | 1 regular end |
| | 1 roller or cut-off bracket |
| | 2 rollers |
| | 1 Adjustable Cutting Stop |
Saw Bracket

This bracket is made of heavy 3/16" steel and can be moved easily along any 2 x 6. Once placed, it rigidly locks with industrial grade knobs to prevent movement. It can hold a saw of any size or weight.


As all saws differ, this bracket is meant to be attached to a piece of plywood or other material (not included) that bolts or screws to your saw. Back to Mighty MiteR

The Electrical Stand End
The electrical end contains 4 G.F.I. (Ground Fault Interrupted) outlets with attached 25 foot #14 gauge heavy-duty cord.
The cord is rated at 15 amps. and is capable of handling all miter saws, vacuums, drills, sanders, and various other tools. The cord is attached with a strain-relief to prevent damage. A device for storing the cord is attached.
It also includes an attachment for mounting a roller or cutting stop. Heavy-duty adjustment knobs are attached for securing the bracket to any standard 2 x 6 (not included).
The Opposite Stand End is similar to the electrical end, but without the electric assembly.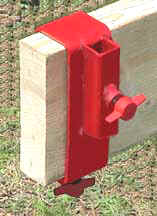 Rollers are made of 1 1/8" dia. stainless steel tubing. They are 6" long with custom-made, free-rolling, dust-resistant bearings.
The bracket is made with 1/4" thick extra-heavy steel to eliminate damage.
Rollers allow trouble-free guiding of any width board. Roller height is adjustable to fit all saws. Once adjustment is made for height, it is held in place with adjustment knobs.
The roller and cutting stop are interchangeable. Both may be placed on either end of the stand or a movable bracket. Back to Mighty MiteR
Cutting stops are adjustable to accommodate all saws. As an added feature, one end of the cutting stop has a threaded micro stop for extremely precise settings. The opposite end has a flat strap with holes to fasten a wood block to fit your particular saw. This is great for making repetitive cuts.
Vertical and horizontal adjustment is 14" so the bracket doesn't have to be removed each time a different length of cut is made.
If you're making repetitive cuts, and need to stop and make a longer cut, a handy feature of the stop is that it can be quickly dropped or lowered out of position and put back in place without re-measuring.
Knobs are industrial quality for lifetime use.
Bracket can be quickly removed and replaced any where on the stand. Back to Mighty MiteR

How To Contact Us;
Paul, Lorri, or Lynn
Telephone: 1-906-482-6604
1-800-417-2862
Mail: A & L Fabricating Company
HWY M-26, P.O. Box 319, Dollar Bay, MI 49922
E-Mail: alfabco@portup.com
mytmiter@portup.com